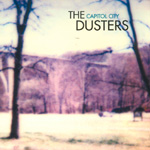 From Transworld Stance September 2002
Review of Rock Creek
File Under: viva La Dischord!
By: JB

(****) Description: On its second album DC's Capitol City Dusters displays a quirky and cool sense of humor that recent bands on the Dischord label have lacked. Not to say that the songs on "Rock Creek" are entirely free of the typical DC keywords such as freedom, revolution, and war, but when the Dusters pad them into the Pixie-esque "They Saved Reagan's Brain" its a pill you won't mind swallowing. Frontman Alec Bourgeois' voice is a bit Frank Black but balances well against the intricate guitars and time signature changes. At its best (Cancer) the Dusters recall the jubilant energy of the early DC emo without sounding trapped in that time period.
---
From Snap Pop July 2002
Review of Rock Creek
By: Jimmy Askew

The Capitol City Dusters are one of the Dischord's most under-appreciated bands. A strong power-pop outfit who owes as much to Cheap Trick as they do to harDCore, they've written some of the best songs that came out of D.C. in the past decade: "Seventeen" could easily stand up to anything by Q and Not U in terms of both accessibility and sheer fun value; "Play for Time" was a lost gem buried on the wrong side of a record split with their always-more-popular contemporaries Most Secret Method.

But in the four-year interim between their blazing early work and this newest record, the band has traded in bassists several times and landed a second songwriter in the form of Jesse Quitslund, known primarily for his work in off-kilter bands like Vile Cherubs and Check Please. Live, there had been an odd tension between Quitslund's quirky arrangements and guitarist Alec Bourgeois' straight-forward pop. Could the record balance the two and retain the Dusters' distinctively anthemic sound?

Rock Creek does a fine job of striking that balance. While certain songs bear the unmistakable stamp of one writer or the other ("Revolution," for example, is pure Quitslund; while "Cancer" could only have been written by Bourgeois), on the whole the LP is a step forward for the band. Listen to "Signal Sound" for example: taut and tense in a way that it wouldn't have been without the collaboration of a new writer, it's a great song that is made stronger by the contrast of Bourgeois' pop sensibilities with a restrained arrangement that gives the song room to breathe; "They Saved Reagan's Brain" is given a sing-along second life to balance Quitslund's fractured take on the resurgence of 1980s-style conservatism. Song after song, you can hear how Quitslund and Bourgeois play off of each other, creating a record that is far different than either has played on before. Definitely worth the wait (the band took some time to get comfortable within its new skin), this record is a strong showing from the Dusters.
---
From Heckler 56 July 2002
Review of Rock Creek
Sounds like: Jawbox, Shudder To Think, Pixies
Influenced by: Soulside, Delta 72, Burning Airlines
By: Scott Torguson

This is pretty much what I expected it to be-which is a good thing. The Dusters bring back memories of early 90's DC rock. Think Bands like Severin, Holy Rollers and Gray Matter. What this means is a mix of the "DC Sound" with '60s mod pop. Lots of harmonies, but enough backbone to make it relevant. The Dusters would fit nicely on a bill with Ted Leo and the Pharmacists. I don't know if this album quite lives up to the promise of their debut single, "Forest Fire/Seventeen," but regardless, this is a really good pop record. The hooks, like on "Signal Sound," are what brings me back to this record.
---
From Rockpile 82 July 2002
Review of Rock Creek
By: Don Malkemes

(****) The Capitol City Dusters have one thing on their mind-summer jams. Granted, their newest release, Rock Creek, comes with snippets of the typical Dischord sound glutting the label's rock cache since the powers that be decided, "well, you don't need to yell." But mostly, the Dusters have produced a record sure to push any active listener into actively pursuing Molly Ringwald while still desperately trying to maintain a rocky friendship with James Spader (and before prom no less!) In this barely visited vein of not-punk, not-rock, just-look-at my-hairdo music, Rock Creek packs enough hokey and flippant hooks to mix perfectly with sand in your shows and italian ices. If the music doesn't win you over immediately, then the lyrics will definitely win you the Pantera sticker at the ring toss. The absolutely ridiculous content of said lyrics and their awkward delivery will have your cheeks so red with embarrassment you might want to try a higher SPF. But are you embarrassed for the band or that you are singing along? Its really hard to care when its summertime and the only concern you have is deciding whether or not to attend Freaknic this year. so sing along to "this is the Story of Revolution," and sing it loud: "He's dressed just like a revolutionary, but he's singing like a yellooooow macaw." Just make sure you do it before labor day.
---
From The Washington Post July 5, 2002
Review of Rock Creek
By: Mark Jenkins

It's not just song titles like "Freedom" and "(This Is the Story of) Revolution" that assert that the Capitol City Dusters' "Rock Creek" is music for taking a stand. There's also the D.C. trio's rat-tat-tat delivery, which recalls the Alarm's military-tattoo anthems -- though singer-guitarist Alec Bourgeois' declamatory vocals suggest the B-52s' Fred Schneider as well. The Dusters seem to have retooled '80s new wave theatricality for a higher purpose.

That purpose, however, remains elusive. Although the album includes an anti-Reagan tune, most of the songs are driven less by ideology than internal rhymes. Still, the Dusters at their most stirring would be great recruiting officers for some sort of movement. Such highlights as "Reason" and "Cancer" drive their spare, open, ascending style -- parade-ground punk with a hint of dub -- to cathedral-like heights. "There is no final answer," claims the latter song, but the Dusters' best songs march with certainty.
---
From Big Cheese June 2002 (UK)
Review of Rock Creek

(****) Up beat record from DC band that should be bigger.

The first thing that strikes you about this record is how upbeat it sounds, getting things going with the sound of the B52s gone post-hardcore on opener, "Superimposed," which features spider-like fretwork before exploding into a wicked angular guitar riff. "Signal Sound" follows this up with a one two of a Foo Fighters style chug a chug riff and unexpected harmonies that knock you upside the head. Things get stepped up a gear on "Reason" which sounds like Elvis Costello and Fugazi fighting to the death over Buddy Holly's remains before a shout a long chorus. The highlight of this Washington 3 piece's album has to be "Rock Creek Park," a slow burning atmospheric little number, which sees the Dusters head into the prog rock style territory usually inhabited by the Appleseed Cast, before breaking into a chorus big enough to fill Wembly! Essential.
---
From positiverage.com June 2002 (FRA)
Review of Rock Creek
By: mg
Après un premier titre excellent rappelant aussi bien les pères spirituels (Fugazi) que l'ancien groupe d'Alec Bourgeois (Severin), ce nouvel album des Capitol City Dusters prouve que le trio de Washington DC a acquis une sacrée maturité depuis son premier album, "Simplicity" (Superbad/Dischord). La fraîcheur du punk émotionnel développée sur ce dernier était déjà très touchante, mais avec "Rock Creek", le groupe semble mieux se connaître, et leur langage musical s'aiguise. La classe indéniable du mélange chant/ch|urs, que l'on sentait déjà bien dans Severin, est de nouveau plus affirmée ici. La musique se laisse, elle aussi, enivrer par les odeurs suaves de l'indie, et l'ensemble, qui devient étrangement plus intense qu'autrefois, s'accorde une cohésion digne d'un groupe qui a su trouver sa voie. Encore une fois avec le groupe de cet employé des bureaux Dischord (!), le punk n'aura jamais été aussi romantiqueS Et ce n'est pas l'envoûtant titre "Rock Creek Park" qui viendra dire le contraire. À écouter avec des fleurs cueillies à Washington DC !
---
From GIANT ROBOT #25 June 2002 (USA)
Review of Rock Creek
By: MW
This DC trio cranks out lean, angular punk rock with bulletproof musicianship and cryptic lyrics. Like a tighter, darker Pavement, they're smart enough to write songs like "They Saved Reagan's Brain," and loose enough to yelp and holler like they're at a hoedown in "Superimposed." The band knows how to use tension, dynamics and tone to sculpt their sound, and not just play at full bast through every song, and there's a payoff when they cut loose in a song like "Signal Sound." It's great on many, many levels.
---
From musicemissions.com May 2002
Review of Rock Creek
Although not a completely new band, (first recorded material arose around 1996), the Capitol City Dusters are really making a big splash with their newest release Rock Creek. In 2001 The Dusters holed up in Phase Studios to come up with what we know as Rock Creek and it is the first release that they have put out exclusively on Dischord. Previously they had piggy backed Dischord with their own Superbad label. Rock Creek is the sound of a very mature band that has all the right ingredients. They are big on melody but aren't afraid to tweak things just left of center for a new take on things. The album starts out with this reviewers favorite track "Superimposed" which is very strict and Fugazi-ish. The have really taken the term post-hardcore to an extreme. There are catchy tracks on Rock Creek like "Signal Sound (e2)" but Capitol City Dusters like to rough things up around the edges. Take "Cancer" for instance. There is a super melody throughout but the vocals are all over. This is one of my favorite releases so far this year.
---
From splendidezine.com May 2002
Review of Rock Creek
By: Jason Jackowiak
The Capitol City Dusters just might be the most straightforwardly rocking band ever to grace the hallowed Dischord roster. They might not be as twitchy as Q and not U, as scathingly political as Lungfish or as staunchly eclectic as El Guapo, but they know how to throw a bundle of chords together to make one particularly joyous rock 'n' roll racket. The DC-based trio treads a fine line on Rock Creek, blending jagged post-punk dynamics with a muscular, blues-based attack that's not all that far removed from drummer/founder Ben Azzara's other outfit, The Delta 72. Lead vocalist/guitarist Alec Bourgeois has a timbre that's eerily reminiscent of the late Joey Ramone, which becomes particularly evident on thrashy guitar-send-ups like "Reason" and "They Saved Reagan's Brain". Despite that fact that there's a strong Motor City undercurrent running through the record, politically driven and cacophony-spiked tracks like "This is the Story of (Revolution)" prove that the DC blood runs deep in these boys. They might not be what you were expecting, but give the Capitol City Dusters a chance and I promise, they'll rock the fucking pants off ya.
---
Q 190 (UK) May 2002
Review of Rock Creek

[****] Second album proper from inventive DC post-punks.

Started by Minor Threat and Fugazi man Ian MacKaye to document the DC punk community, the Dischord label has been releasing some of the American underground's most consistently challenging music for over 20 years. The Capitol City Dusters reside in a relatively rarified region of the imprint's roster. An off-kilter, new wave trio, their prickly post-punk is, by turns, affected, angular and anthemic. Opener "Superimposed" sets the pattern, its jarring, jabbing guitars eventually giving way to a glorious chorus, while fulsome finale "Freedom" sounds like Fugazi covering Bob Dylan. The shafts of black humor, particularly in the paranoid parable "They saved Regan's Brain," compound the notion that Dischord has struck another vein of precious musical ore.
---
KERRANG (UK) March 2002
Review of Rock Creek
By: Ben Myers
[KKKK] DC trio featuring former members of Severin and Delta 72.

Save for their two biggest bands-Minor Threat and Fugazi, in that order-Dischord is not a label that is duly concerned with making stars. However, over the course of 20 years spent steadily documenting the Washington DC scene, they have unearthed bands whose every release is worth checking out. Like the vastly overlooked Capitol City Dusters.

Rock Creek owes a fair amount to forward thinking post-punks like Gang of Four and the original emo exponents of the mid-'80s-but TCCD are not an emo band. Rather THEY'RE a thoughtful, angular, dark pop band unafraid of self restraint and capable of twisting melodies into something memorable: witness "Cancer," or opener "Superimposed." And thanks to Alec Bourgeois' suitably demonstrative and distinct vocals, this trio have made a fine new-wave flavoured album that manages to be punk rock without ever actually sounding it.
---
BUZZ (UK) April 2002
Review of Rock Creek
By: MB
[****] You can't shake y'booty or any part of you to Capitol City Dusters, or can you? CCD are discrete masters of the guitar riff. Rock Creek is rock from the school of Fugazi deconstructed, remixed and played with ebbing passion and quirkiness." Signal Sound (e2)" demonstrated the case in point starting with an angular chop introducing an urban folk song rearranged to create something, curiously, CCD's very own. Gang of Four, Joe Jackson, B52s, Television are all cited but really Rock Creek is breaking new ground.
---
METAL HAMMER (UK) May 2002
Review of Rock Creek
By: Tommy Udo
Capitol City Dusters emerged from various Washington DC punk/hardcore bands and over the last Five or so years have released a handful of singles and an album before this gem. Infused with the spirit of Fugazi-not a bad thing-and even the quirkiness of Surfer Rosa era Pixies (as evidenced by singer Alec Bourgeois' [note: its actually Jesse Quitslund who sings this song] off kilter Black Francis-esque vocals and song structure on "This is the Story of Revolution") Capitol City Dusters have sufficient wit and brains to slip their surly punk roots and fly.

Upbeat and tuneful, even unfashionably optimistic, CCD have two absolute classic gorgeous rock n' roll anthems in the Modern Lovers-like "Sound Fountain" and the staccato riffing of "Superimposed" which calls to mind classic Gang of Four.

This is a classic power trio recorded without frills-the production 'sounds' cheap-this is nevertheless more exciting and vital than most of the carefully manicured 'product' churne d out this month.
---
EXCLAIM! (CN) April 2002
Review of Rock Creek
By: Stuart Green

Their was a time in the 1980's when Dischord was home to the most offbeat indie rock bands of the day. Listening to the Capitol City Dusters brings all the memories the those glory Days flooding back. This is inventive, minimalist post-rock at its scrappy best. From the epic" Superimposed" to the succinct "They Saved Regan's Brain," you'll be amazed at how much can be done with a guitar, bass, drum kit and two voices.
---
STYLUS (CN) April 2002
Review of Rock Creek
By: James Korba

They're from Washington, and they're on Dischord. This winning formula includes the likes of Jawbox and Fugazi. Now you can include the Dusters. This is a great album. The combination of garage rock, with poppy choruses make the Dusters quite good. There is one thing though; the vocals tend to get annoying at times (see "Cancer") If you can get used to the vocals then the music will win you over. With tracks like "Superimposed" and my personal favourite "Rock Creek Park," and a plethora of other great tracks, you owe it to yourself to paddle up this Rock Creek.
---
THE NEW SCHEME (US) April 2002
Review of Rock Creek
After an assortment of compilation and split appearences, and a full length on band owned Superbad Records, The Capitol City Dusters are offering up their first official Dischord release. The band is fronted by Alec Bourgeois, with Ben Azzara (ex Delta 72) on drums and new bassist Jesse Quitslund. Their sound is off kilter, mid tempo rock and roll that is sometimes very meoldic, while other times it borders on abrasive (though never screamed.) It brings to mind Nation of Ulysses in spots, though these guys are more upbeat. The singing is well done, though sort of strange and very distinct. For a trio these guys cover a lot of ground musically, with all three instruments going in opposite directions sometimes. But they are not odd to afault, still converging for some pretty down tempo, though still medolic, numbers like "Rock Creek Park", the longest song here. It is obvious that a lot of time was spent on the arrangement process with every song. The songs are far from being straight forward verse, chorus, verse, but they're not completely linear either. That element is perhaps the most interesting. All in all this is the sort of thought provoking music that I've come to expect from Dischord.
---
From sincerebrutality.com Review of Rock Creek
"The Capitol City Dusters are like the perfect three piece classic rock 70s/80s type band crossed with post-hardcore math rock and early 90s alternative rock (I know it's a mouthful, but let me explain). They are a band that sounds like they are just as influenced by early Fugazi as they are by the Pixies, Nirvana and The Rolling Stones. The three piece delivers incredibly solid and full songs that range from confrontational (like Shipping News) to really damn catchy anthems. Every song on the album is incredibly solid and well developed. There is enough variation to keep things interesting, but always turning back to a magical hook that will simply blow your mind.

The opening song, "Superimposed" is rather deceiving in the beginning, a build up very much like Fugazi that goes on for over three minutes until quite suddenly, it shifts and morphs into this really catchy song that could very easily be at home in a huge arena with lights sweeping over the heads of the audience and 5000 kids dancing and singing along. But, this is our little secret, so forget about it. Oh how it makes me miss my High School days in the early nineties. (Fuck, I'm starting to sound like an old man!)

"Cancer" has this really catchy pop guitar opening that transitions to feeling very much like it could be a Pixies song sung by Mac of Superchunk. I could swear that the final song on the album, "Freedom" is a cover of an old Rolling Stones song... but no, it's an original. It's great. Don't miss a chance to hear this band."
---
From rekkid The Capitol City Dusters/Aina / Split 7"
by: fungus

Indie rock seven inch style. I love the idea's of seven's since they just usually, make you come back for more. The Capitol City Dusters makes you want to just jump, and dance along with them. It's too bad people are too accustomed to just standing with their arms crossed. Indie rock, just like I said earlier, Aina closes the split with one song as well with it's really radio friendly indie rock. I think it's called "college rock" these days. Just cause it sounds so rock.
Well done Dischord!
---
From Splendid eZine The Capitol City Dusters/Aina / Split 7"
by: -am
Before you even get to the music, you've gotta admire the sleek packaging and the marble blue vinyl of this 7". D.C.'s Capitol City Dusters play games with volume control on "Reason", crisscrossing through some positive soul searching as vocalist Alec B. shifts from prowling quietude to snappy melodic runs that'll have you nodding your head in aural agreement. The flip side has Spain's Aina doing a solid Jawbreaker-inspired number that flows consistently through a viscous stream of mixed instruments, pushing the English-sung lyrics along with a sense of immediacy. Honestly folks, isn't it time you dusted off that turntable of yours so you don't keep missing spectacles like these?
---
From the Washington Post Weekend Section for Simplicity
by: Mark Jenkins 12/99

...Lots of D.C. post-hardcore bands hit hard, but only a few soar. With their debut album, Simplicity, The Capitol City Dusters earn place among that airborne company. As those who've followed the band's singles already know, The Dusters most anthemic songs are marvels of economy, energy and sheer joy...Such surging Dusters songs as Forest Fire and Treason..revive the communal spirit and adrenaline rush of punk bands that now qualify as long gone, notably the Jam and the Clash. When singer-guitarist Alec Bourgeois calls for listeners of Seventeen to "stand for revolution," he no longer has zeitgeist on his side. But that song is so galvanizing that Ben Azzara's martial drum fill seems an entirely convincing call to arms....
---
From Copper Press for Simplicity
7/99
...Just Simple enough to recall the early days of Dischord, yet learned in the ways of post-punk. The Capitol City Dusters feature the vocals of guitarist Alec Bourgeois, whose singing possesses a keen melodic sense lost on many bands of today. His words are slightly bitten when sung, often offered with a slight smirk. Supported by the deft drumming of Ben Azzara and bass playing of Mark Lacasse, respectively, Alec's tickling guitar lines explode into careening anthems and tension-shifting bridges. Breather, with it's frenetic rhythm, recalls Nomeansno's finer works, while the increasingly intense build of Treason explodes like punk should, smart and forceful. Swift, cohesive and energized, the songs that comprise Simplicity waste little and yield much. Creating punk rock was the goal and the pinnacle, perhaps they have reached. Hail to the punkers! Yea!
---
Metro Connection WAMU 88.5 WDC 3/21/99 Simplicity Review
»» Listen to this segment in RealAudio ««
by: Mark Jenkins

"Many of the musicians who created Washington's influential hardcore-punk sound in the early 80's are still playing, but frequently their music has evolved toward a more abstract and even jazzier style. Not so for the Capitol City Dusters. According to reviewer Mark Jenkins, the Dusters retain the immediacy that was once hardcore's paramount quality. "
---
From greynoise.net for Simplicity
by: JF
As I walked around the American capitol city Washington DC, I wanted to find out about the local bands. I stumbled upon this disc as I scrounged through the record collection of Smash Records (a local record shop). There isn't much here but your traditional emo, pop punk. Somehow it grew on me, and I haven't been able to go a week without listening to it. Obviously they are from DC, and have a following. This disc is pretty good, and makes you want to go and write a bunch of emo songs (if your a song writer of course).
---
From Spank # 27 for Simplicity
by: Michelle Daugherty 6/99
God, don't you just love this band? Easily one of the smartest bands with what has to be one of the cleanest guitar sounds around, The Dusters remind me of Bluetip-not necessarily the musical sound (because although the DC contingent is definitely represented, their music actually defies description), but there's that same obvious amount of class and dignity (subconscious perhaps) that is going into this and creating an overall..place to be. I can get INTO this record. I don't mean I can get down and get funky; I mean that I can actually insert myself in this record. The sharp sound is so tangible and the telling lyrics are so visible that Simplicity is like a magic door. Plus they rock! Minuteman Song, Second to Run and the wholehearted Spank favorite, Treason, all move me...
---
From Hit It or Quit It for Simplicity
5/99
When this gets off the floor it goes through the roof. D.C. drum n' bass picks up some power chords where interstate Cheap Trick and highway Superchunk uh...merge, and you're singing along on the first listen. Guilt free fist pumping ensues and you get motorcycle music for kids who take the bus...this is the soundtrack for American Graffiti set in D.C.
---
From Muddle for Simplicity
4/99
Excellent, raw punk rock from Washington, D.C. Great lyrics matched with tons of energy. This band must be amazing live. Hot damn!
---
From Mod #5 for Simplicity
by: Lynn Nguyen 4/99
They come from the Nations Capital and a plethora of bands...Mixed of new-wave, pop, punk, and art, this CD is structured with pure joy, love and punk rock. The creativity and youth of their debut, Simplicity, is readily apparent as its energy and style go well beyond the established punk boundaries. (Editors note: I too found Simplicity to be an example of immeasurable punk rock maturity. Tightly formed and fueled from the heat in the bellows of the earths (hard)core. The Dusters are a funnel cloud dust storm you can welcome into your living space without worrying about the furniture...
---
From Here Be Monsters-UK for Simplicity
by: Daz 3/99
Usually content to dismiss pop punk with a cutting remark, I could hardly believe my poor battered ears when I put this on.Bags of melody, nice boomy guitars, and a sort of Mike Watt-like structure to the whole album. Track one is called Minuteman Song for further proof...Classy stuff from start to finish
---
From #2 Zine for Split 10"
8/98
The Dusters side of this 10" breathes the Big Star back into the early '90s Chapel Hill in a phenomenal way. Mabe it's the shitty stereo I'm playing it on, but when turned up to the right volume, it begins to work off that same treble that makes the most precious of the '60s gems so precious while still garnering an, excuse the term, "boogie" that I will always associate with Big Star. Needless to say, the whole side really fucking works at indie pop levels I haven't felt since No Pocket for Kitty
---
From Magnet for Forest Fire/Seventeen 7"
by: Greg Barbera 3/97
A three piece comprised of former Severin, Delta 72, Foundation members, The Dusters expand on the minimalist pop song made famous by Mission of Burma and Wire, then filter it through Fugazi....Seventeen is one of the best songs I've heard in a long time-the tale of every guy who wants to revel in both youth and adulthood.
---
From Washington City Paper Online for Forest Fire/Seventeen 7"
by: Mark Jenkins 2/97
Seventeen...(is) a man the ramparts rocker--I don't know what it's about, but it does predominantly include the word "revolution"-this has all the punch and melody a single is supposed to have. This won't be a real-world hit ...but that's a commentary on the real-world, not on the appeal of this sparkling record.