The Dusters played their first show on June 2, 1996 at Blackcat with
Regulator Watts
and
The Most Secret Method
. Their true calling unknown (perhaps even to themselves) The Dusters have given three lads an opportunity to parlay their youth well beyond the "boundaries" usually recognized by society, all the while reinforcing a structure where pure joy, creative violence and lyrical nonsense find meaning in community (punk rock).
Ben Azzara
and Alec Bourgeois found each other after several attempts to rebound from their respective "significant other" bands. Alec's former band
Severin
broke up in late 1993 and Ben found himself spiritually (and physically) on the outs with
The Delta 72
later in '95. The Dusters first line-up was solidified with the addition of Bill Colgrove, a recent refugee from Upstate NY and the hardcore band
Foundation
. Bill and Ben had known each other as Foundation and
Junction
, Ben's previous band, often played shows together in the old days.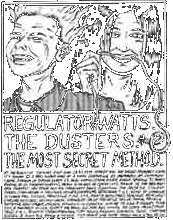 The Dusters released two vinyl only releases on Superbad Records with the generous help of Dischord Records.
Forest Fire b/w Seventeen
7" was released in Oct.1996. It was pressed on clear vinyl with a clear vellum sleeve. The 1997 10" features 3 songs apiece from The Dusters and their friends
The Most Secret Method
.
Shortly after the release of the 10" The Dusters found themselves in "bass limbo." Bill left the band to concentrate on his life and work at home (he now owns a web design business called
Threespot Media
with Bill Barbot) and The Dusters were joined briefly by Mark Lacasse. Mark helped record the full-length
Simplicity
and then quickly departed. The
Simplicity
album was released in October 1998 on Superbad/Dischord. It was recorded at WGNS in Washington, DC with Geoff Turner (
Gray Matter & New Wet Kojak
). Now joined by old friend Jesse Quitslund (
Vile Cherubs & Please
) on bass The Dusters toured the US in the Fall of '98 and Spring '99. Also, just prior to
Simplicity
's release they officially changed their name to "The Capitol City Dusters", both to usher in a new era and to decrease confusion with bands, past and present, of a similar nomenclature.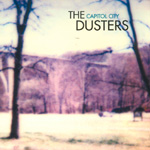 In October of '99 the Dusters toured Europe for the first time with Barcelona's finest,
Aina
. Aina and The Dusters shared a tour split 7" that was released on
BCore disc
in Europe and on
Superbad/Dischord
here in the states. Tired and weary (of the road and perhaps each other) The Dusters took most of 2000 off and (some of 2001 as well), playing rarely and focusing on writing and their lives at home.
Mid 2001 saw the Dusters shake off the rust and re-dedicate themselves to writing and recording. The fruit of this rejuvenation is the album
Rock Creek
. This album was recorded at Phase Studios in the summer and fall of
2001 and was released on Dischord Records on April 1, 2002. This is their first release to be put out exclusively on
Dischord Records
. The Dusters toured extensively upon the release of the album, playing dates along the US Atlantic Coast in May, touring in Spain with Aina in June and returning for a full US tour in the Fall. In the spring of 2003, on the eve of US Bombing in Iraq, the Dusters returned to Europe. The tour was by far their best to date but was also to be their last. Shortly upon the band's return they decided to shut things down. (
see all the shows the played
)
Ben continues to play and record with multiple musicians and groups; from punk rock, to folk, to experimental improvisation. He designs websites, mostly for Jazz musicians and writes Twitter poetry. You can keep up with all his goings on at
benazzara.com
.
Jesse played briefly with
Dame Fate
before moving to the west coast. He is currently working as a guitar tech and has toured with
Lucinda Williams
,
Death Cab for Cutie
and the
Yeah Yeah Yeahs
among others. Jesse still plays as a solo artist under the name
Check Please
.
Alec is still manning his position at Dischord Records and spent quite a bit of time over the last years traveling to Italy to be with his wife, Giuliana, who is from Venice. They were married in May of 2006 and now both reside in Washington, DC. Alec started publishing a blog in August 2006 titled, "My Life As a Professional Fake Skateboard Champion" which can be found at
http://www.professionalfake.blogspot.com
.